29 janvier 2021
Sometimes our iPhone X ear speaker is not working and we don't know why. We need to tear down the phone and take out the ear speaker module to check the reason. Previously we've demonstrated to you how to replace the iPhone X series, ear speaker. This solution works on all the mobile phone broken ear speaker issues. We don't have to this because this time we find the ear speaker flex is broken. Here we will show you our repair steps below.
​
When we test this iPhone X ear speaker, we can see the ear speaker is soundless. All other functions are normal, such as the face ID recognition, the true tone, the cameras, etc. Here we assume the ear speaker must have problems. The iPhone ear speaker consists of the ear speaker and long flex cable ribbon. We need to take this module out to check the problem. Firstly, we need to turn off the phone and loosen the pentalobe screws on the bottom. Then we take the procedure of tearing down the iPhone X screen and digitizer. When the screen is removed, we unbolt the screws and take off the metal panel to take out the ear speaker module. The ear speaker seems normal. We need to measure the J4600 connector on the iPhone with the machine, we can see all the values are normal. We measure the ear speaker connector values. All are normal, too. The ear speaker has no problems, then we check the flex. Here we find a crack on the flex ribbon. This is the reason why the ear speaker not working. Base on the case, we need to solder a jumping wire aside from the crack part to fix the issue. Use tweezers to scrape on the flex, on each side of the crack. Scrapping until we see the copper wire. Clear off the scrape, apply some soldering flux on the scrapes. Coat in the copper wire and solder a 0.009m jumping wire on the scrapped copper wire, jumping across the crack part. Apply some PCB cleaner to clean the crape on the flex. After the iPhone X ear speaker with flex cable ribbon is fixed, we need to install the ear speaker back to the iPhone. Tighten the screws to fix it. Assemble the screen back, connect the flex cables, and fixing the cables with a metal bracket and screws. Don't forget to connect the battery cable. When the iPhone screen is assembled, we turn on the iPhone and check the ear speaker function. Now we can see it the ear speaker is working normally.
​
At last, there are some notices about the repair procedure above we need to focus on. The iPhone ear speaker flex is easy to be broken, we need to be careful on it while scraping on it. The iPhone X screen teardown process refers to Etrade Supply's blog of How to Tear Down the iPhone X for LCD Screen Replacement. Moreover, you may come to our website for cheap iPhone X LCD screen and small parts if you have interests. Leave your message or contact us if you need any iPhone parts, we are glad here for help.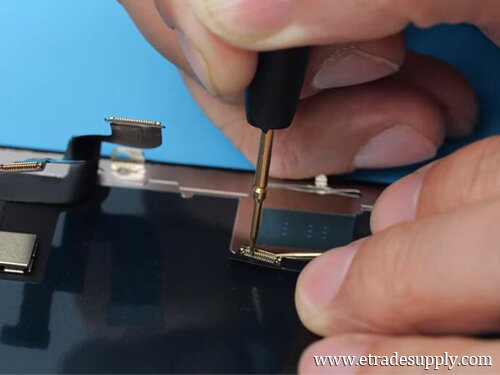 21 janvier 2021
As one of the iPhone screen and small replacement parts suppliers in China, the iPhone aftermarket screen touch issue is the most common problem customers complained to us about. Well, these iPhone screen problem occurs for many reasons and some of which are repairable. Here Etrade Supply would like to analyze why the iPhone aftermarket screens have touch issues and share with you repair tips on how to avoid these problems in the description below.
Normal iPhone aftermarket screen touch issues are flickering. The newly replaced screen flickering happens because of the loose screen flex cable. Other reasons are flex adaptor or flex ribbon damage. We need to disassemble the iPhone again and check the flex cables. Make sure the flex cables are connected well. Process refer to our YouTube video about China Made iPhone LCD Screen Test. Another iPhone screen touch issue is the unresponsive screen or partly unresponsive screen. This problem is complex. New aftermarket screens unresponsive issues are seldom. Reasons for this problem may be the screen hardware or software. Most unresponsive screens are not repairable. Let's talk about another serious touch problem of iPhone aftermarket screens, ghost touch. When we turn on the iPhone, the screen is jittering and keeps switching on interfaces. This is so-called ghost touch. Technically, this issue cannot be fixed because it relates to the problem of screen manufacture and software data compatibility. As we all know, most aftermarket iPhone screens from China are manufactured in factories of the mainland, while the touch IC, which is the core part of the screen, is supported by leading companies like Samsung or Taiwan Semiconductor. Most aftermarket iPhone screens made in China cannot meet the standard of this touch IC, that's why the touch issue occurred. On the other hand, the iPhone aftermarket screen software is insufficient to computing the larger new iPhone drive IC software volume, that's another reason why the screen has touch issues.
Finally, we should know the reasons why the iPhone aftermarket screens haves such touch issues so that we can avoid these problems. The simple flickering issue can be fixed by checking the flex cables and flex ribbon. As to the problem of the unresponsive screen, we should check new screen and contact to the supplier for after-sale service. Anyway, the QC to products is very important. A great iPhone screen and parts manufacturer in China would work the best on their QC process. Etrade Supply is running the iPhone screen and replacement parts business for 10 years. Here are high-quality
iPhone 11 LCD screen and small parts
for supply. All our mobile phone parts are 100% tested with before stock-in. Come to our store if you need any iPhone parts.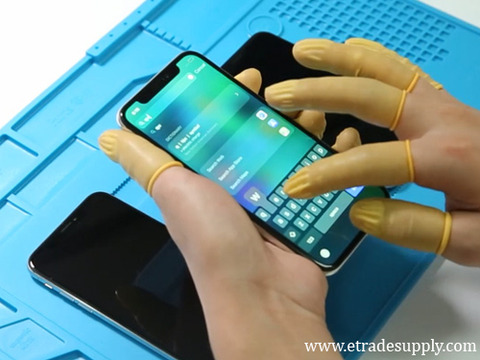 08 janvier 2021
This time we received a repair case that our customer's iPad Air Pro home button collapsed in the display hole after repair. Although they tore down the iPad screen and readjusted the home button times, it wasn't solid as it was before. He was frustrated because he thought there must be a small part he had been missing inside, a small bracket or something he didn't install when assembled the iPad. That's why he came to us. Well, this is not a big deal.
First of all, we need to know why the iPad or iPhone home button is sunken after the screen and digitizer reassembled. The iPad home button is fixing with a spacer on the digitizer hole. It has a long flex cable ribbon, which is closely adhered beneath the digitizer. When the home button is off from the screen and digitizer, the adhesive glue will be off and so as the spacer. If we don't apply enough adhesive glue to the home screen and the spacer, the home button will be falling in after iPad Pro 10.5 LCD screen and digitizer assembled. On the other hand, the new replaced home button must be the exact same size as the hole on the digitizer. Some of the third-party manufactured home button or the iPad screen and digitizer may have errors with the standard size. This will also cause the problem of the home button collapsed.
Next, let's show you how to install the iPad home button onto the digitizer screen in steps. Before we install the home button, we need to clear the remaining glue from the digitizer. Apply some T7000 adhesive glue on the position of the flex cable ribbon and past the flex ribbon closely on the digitizer. Push the iPad Pro home button with flex cable ribbon on the back slightly to make sure it is flush on the screen. When the home button is fixing tightly on the screen digitizer, we will need to paste the spacer for fixing the home button. We use 10mm Tesa tape to paste on the spacer, make sure the tape is fully covered on the spacer touching face. Paste the spacer across the home button. Press the spacer slightly and make sure it is tightly fixing on the home button. We can check the home button now by gently pressing on the digitizer screen, to see if it is sunken in the hole. We can readjust the position if it is falling in. Apply a little more glue around the home button and the spacer to make sure it is fastened well on the digitizer. After these steps are finished, we can assemble the screen digitizer onto the iPad screen.
Finally, we advise our customers to tear down their iPad screen and digitizer and reassemble the home button. Follow our steps above to avoid the problem. Furthermore, we suggest our customers choose the original new iPad digitizer touch screen assembly with adhesive or the home button because some third-party manufactured iPad or iPhone parts may have errors with the original device. For consideration of this issue from our customers, Etrade Supply provides the best LCD iPad screen and digitizer. All our iPad parts are 100% tested before stock-in. Customers have no worries about the home button size errors, we guarantee.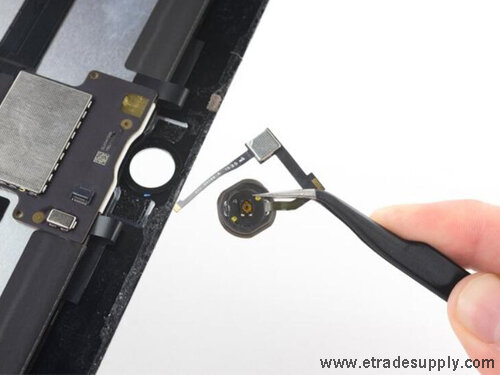 26 décembre 2020
This is a problem our customers complain about most in our shop. Some new replaced LCD screens are dim when we turn on the iPad. The same problem has happened on iPhone screens before, and we consume the issue to be the backlight circuit problem. How could this happen to the LCD screens? Can this problem be fixed? Here we would like to discuss it with you here.
Firstly, we have to know something about an iPad or iPhone LCD screen's composition. The LCD screen is totally consists of eight layers, but only the three layers related closely to the image forming and animation on the screen. The backlight is one of these three layers. It is an LED light panel that allows the phone screen to be seen in the dark. When this light panel fails for lighting up, you will see a very dark screen and dim images, which can only seem under strong light. The reasons why this happened are complicated. For one side, some of the low-quality LCD screens are manufactured from third-party factories. These high copy screens are not matched with the original screens on the electrical characteristics. The high copy screen requires much more electric power loss than the original screen. When the backlight circuit is overloaded, it would be damaged and not work. On the other side, damages to the iPhone or iPad screens may cause the iPad screen backlight panel to fail for lighting up after iPad LCD screen replacement.
Next, fixing the backlight circuit issue can be difficult and risky. It requires someone professional on Apple mobile device repair experience on it. Since the backlight failed for lightening could be more than one reason, the repair solutions consist of a simple filter replacement, another can require replacing the whole circuit or adding jumper wires to bypass damaged tracks. Specifics of the operation may refer to YouTube videos or google. We advise you not to try without professional guidance because these solutions are risky. Inexperienced operations may cause irreversible damages to the new screen. You may check our iPad repair guidance about iPad mini 4 screen replacement video if you have interests.
Finally, we sincerely advise our iPad and iPhone users don't trust any "parts swapping fixing everything" from a third-party repair shop. Choose the original new LCD screens or high-quality level screens for replacement if you have to swap the original screens. All in all, we should take action for our iPad screen protection or else it will cost us a lot on repair. Besides, you may come to Etrade Supply online store for our new iPad swappable screen. Here we got iPad mini 4 LCD screen and digitizer and small parts as well. You are free to contact us if you find any replacement parts you have interests. We are glad here for help.
18 décembre 2020
The iPad Pro 10.5's charging port part is consists of the charging port and the flex ribbon with connector. When your iPad is damaged on the charging port and cannot be charging, you may consider replacing the charging port inside. Here Etrade Supply would like to show you how to tear down the iPad Pro 10.5 to replace the charging port module. Check the process below.
Firstly, we need to tear down the iPad screen. Power off the iPad, then place it onto the separation heating station for heating the screen with 65℃ in 2-3 minutes. Use suction cup and ultra-thin plastic plectrum to slice and separate the screen from the iPad. Unbolt the screws and take off the metal shield for fixing the iPad 10.5 battery connector, then unplug the battery cable with spudger. Unbolt the screws and take off the metal panel for fixing the screen flex cables. Disconnect the screen cables so that the screen can be separated entirely. Here we can see the charging port on the bottom of the iPad. Unbolt the two screws for fixing the charging port, then use a hot air gun to blow on the charging port cable for a while. Use a metal prying tool to pry and take off the charging port module slowly for the iPad. Place the new one into the iPad and plug the cable. Fixing it with the two screws back, make sure it is closely assembled. Connect the screen flex cable back and fixing the cables with a metal panel and screws. Connect the battery cable. Assemble the screen back and make sure it is strictly assembled with the iPad frame. Turn on the iPad and test the new replaced iPad 10.5 charging port. Charging the iPad to see if it is normal to finish the repair process.
As the final suggestion, we should not tear down our iPad by ourselves if we don't know anything about iPad repair. Go to the Apple authority service center if you face this problem. The iPad screen is easy to be broken, just be careful with it. Anyway, you may also check some iPad 10.5 parts like iPad 10.5 LCD screen and small parts in our shop if you are interested. Leave your comments if you have questions about iPad repair, we are glad to discuss with you.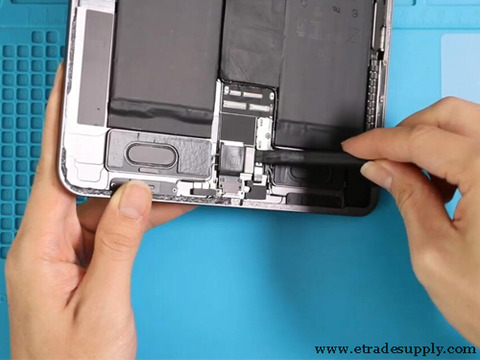 11 décembre 2020
The Huawei Mate20's back cover is hard crystal material. It is easy to break if we crashed the phone unconsciously while using it. We will need to replace the back housing if it is crushed and broken. Here Etrade Supply shows you how to replace your Huawei Mate20 back cover yourself at home in simple steps.
Always turn off the device as the first step. Eject and take out the SIM card tray. Use hot air gun to blow on the back cover with 80℃ for 2-3 minutes. Afterward, use suction cup to pull the back cover. Hard plastic plectrum to insert the gap and slice around the Huawei Mate20 Pro back cover. Gently pry and flip it over to take it off from the phone. Clear the reminding adhesive sticker on the frame with tweezers after the broken back cover is removed. Apply a new Huawei Mate20 Pro adhesive sticker on the new back cover, place the new cover onto the phone and make sure it is in the exact position. Slightly press the cover around the edge to make sure it is closely sealed up. Insert the SIM card tray back. Turn on the phone, the whole process is finished.
The whole procedure is simple, but we need to be careful and patient. You may also go to the repair shop if you are not confident about yourself. There are lots of low-quality high copy Huawei back covers in the market, just be careful with them. You may come to Etrade Supply if you are looking for a new rear cover for your Huawei phone. We offer other Huawei Mate series parts such as Huawei Mate20 LCD screen and digitizer. Just contact us if you are interested.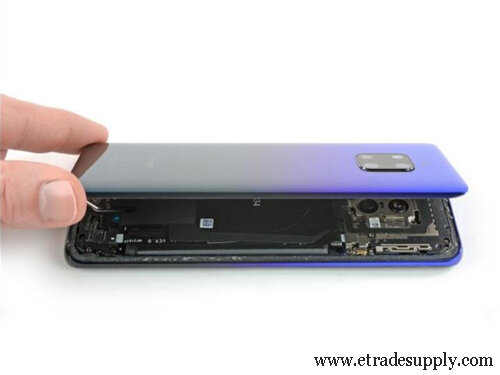 28 mars 2018
Dian Erra Kumalasari is a fashion designer from Indonesia. Her line, Oerip Batik, features traditional Indonesian woven fabric and is targeted towards backpackers worldwide. The designs are ready-to-wear, conventional pieces which are different from the luxury, high fashion lines that Indonesian designers have been trying to push into the spotlight of late. Coming from the small rural village of Ngawi, West Java, Kumalasari is currently trying to promote Indonesian batik to the world, while at the same time supporting marginal groups in Indonesia who make a living from traditional weaving.
Kumalasari's conventional and anti-mainstream designs have turned up in the United States, as well as several countries in Europe including Belgium, Holland, the Czech Republic and, most recently, Italy. In January, she had a fashion show in Thailand and in February one in Milan.
Along with her designs, the fashion shows also showcased customized umbrellas from Indonesian umbrella craftsman, Heru Mataya. Each piece in Kumalasari's collection is influenced by the story and philosophy of its weaver. The fashion show in Borsang Village, Shankampaeng Chiangmai, Thailand from January 19 to 21 was also an excellent example of a cultural exchange between these two Asian countries. Each of Kumalasari's fashion shows open with traditional Indonesian dancing.
Bolstered by a little group in her workshop in Bekasi, West Java, Kumalasari began her journey in 2008 and reached the international market in 2015, teaming with European wholesalers and Indonesians abroad to present her line. She uses social media platforms such as Facebook and Instagram, on which she has 12,000 followers. Her worldwide purchasers generally shop on the web.
At her most recent Milan fashion show, Kumalasari focused on East Nusa Tenggara's Sumba and Lembata batik. "I hope my fashion events in Europe will popularize Sumba's traditional woven fabric and increase the appreciation of various fabrics of ancestral legacy in the archipelago," she said. "I've committed to set aside my sale proceeds to be donated to the local community."Read more at:prom dresses online | evening dresses uk
21 mars 2018
Pierre Hardy, who has been designing shoes for three decades, has no shortage of advice for those wanting to dress people from the ankle down. At the top of the list? "Be absolutely, definitely, strongly, deeply sure of what you love or what you want, and hold on to this," says Hardy, who designed for Christian Dior and Hermès in the '80s and '90s before setting up his namesake line in 1999. A successful career in footwear requires a breadth of creative, commercial and technical expertise. We asked five leading designers how they got their start—and made it to the top.
Where to study shoe design
"I went to school to learn technique… [including] how to cut the leather, how to choose the leather, how to stitch a shoe by hand," says designer David Tourniaire-Beauciel, who was appointed creative director of Robert Clergerie in May 2017. In addition to technical skills, design courses can also hone your vision and aesthetic, says British designer Sophia Webster. She funded her MA Fashion degree (with a focus on shoes) at the Royal College of Art by designing for Chinese high-street brands and interning for Nicholas Kirkwood simultaneously. While a design degree remains the most popular route, there are those, like Hardy, who advocate a more general artistic education. "They deliver a better [understanding] of global art culture and a strong cultural knowledge," he says.
Choose the right shoe design school
Cordwainers College, which was absorbed into London College of Fashion in 2000, remains a popular choice for aspiring shoe designers. Household names like Jimmy Choo, Nicholas Kirkwood and Sophia Webster all studied there. But a prestigious program isn't the only route into the industry. "We are not looking for particular schools, it's more the work experience and the portfolio itself," says Mara Schmitz, a senior consultant at Freedom Recruitment, who have placed people in design roles at fashion giants Alexander McQueen, Louis Vuitton, and Gucci, as well as footwear specialists Tod's, Hunter and Jimmy Choo.
Perfect your graduate collection
"We go to the universities and screen the best talent for them," Schmitz explain of the recruiter's presence at graduate shows, "and that's sometimes the first step into the first job". This was certainly the case for Paul Andrew, design director of Italian footwear label Ferragamo. He attended the lesser known Berkshire College of Art and Design, but thanks to talent scouting, he found his graduate collection the subject of interest from Alexander McQueen and American Vogue.
Get an internship
In getting your first work experience placement, it pays to be persistent. Designer David Tourniaire-Beauciel, who was appointed creative director of Robert Clergerie last year, knocked on the door of Stephane Kélian's factory in his hometown of Romans-sur-Isère five times before they gave him a shot. While submitting your CV is the first step, once you hear back, you can expect your portfolio to take centre stage. Portfolios should include "good mood boards and, if it's luxury, nice hand sketches," says Schmitz. For Hardy, a face-to-face interview is the most important step.
Learn languages
"Even if everybody speaks English in the studio—and Italian at some points—understanding French makes every day working life much more efficient," says Hardy of work in his Paris-based studio. But it's not just about speaking the same language literally. "Fashion is a very sharp field of culture and [requires] subtle understanding," he continues, "and working in a French environment requires an innate sensibility". Aside from cultural cohesion, Aquazzura co-founder Edgardo Osorio credits being multilingual as helping him develop a "completely different perspective" and an international understanding of the marketplace.
Don't start your own company too soon
"There's nothing quite like actually working in the industry to learn your craft," says the British-born Paul Andrew, who laboured under other designers, including Narciso Rodriguez and Calvin Klein, for a decade before launching his namesake label in 2013. "Get as much experience as you can making mistakes on other people's budgets," advises Webster. Her advice is echoed by Osorio, who began interning at 14 in his native Colombia. "For me, I think the worst mistake you can make is to start your own company right after you study," he says.
Spend time in factories
"The time you spend in the factory is very, very important," says Tourniaire-Beauciel. They are first and foremost where you learn the essentials of shoe-making. Webster cites a period interning in Italy for a company who had "a factory underneath their main head office" as vital in showing her the process of making a shoe, while Andrew credits his time at Narciso Rodriguez "travelling back and forth to Italy and working in factories" as where he "really honed my craft." After that, it's where you ensure your designs come to life in the way you intend. "To design a sketch, at the end, it's nothing—you need to give the information," explains Tourniaire-Beauciel, who spends two of the six-month seasonal cycle in the factory itself. This involves discussing the drawing with every member of the manufacture team, and finding solutions to everything from budget to heel architecture. "It's a discussion—sometimes there is some argument," he admits.
Be original
"I think it's important that what you're doing is different," Osorio says. "You have to create your own little world because if it looks too much like someone else, [your customer is] already buying someone else." That's not to say your aesthetic shouldn't evolve over time. "Love what you hated and hate what you loved," advises Tourniaire-Beauciel, citing the Buffalo shoes with high wedges that he designed in the '90s. "Ten years later it was considered the ugliest shoe in the world, and now there is a comeback."
Know your customer
Whether pitching yourself to an existing brand or going out on your own, understanding your position in the marketplace is critical. "When you design you need to understand: Who are you designing for? For which brand? For which price?" Tourniaire-Beauciel explains. For Webster, this involves "being mindful of what women want to wear, [even if it's] something understated and classic. Learning that was a bit challenge of me because when I started I just did everything super multi-coloured and all high heels."
"I had definitely thought about the sort of woman I wanted to dress and the sort of woman I wanted the brand to appeal to," Andrew recalls of going out on his own. Likewise for Osorio, whose international background allowed him to identify the U.S. as the best place to start retailing his collection: "I knew the clients, I knew the department stores, I knew the boutiques [and] I was familiar with the environment of where I wanted to be and what I wanted to say."
Develop relationships
"In fashion, you need the relations with manufacturers, suppliers, artisans [to make a collection happen]," says Osorio. These contacts are acquired only by working for someone else first, "unless your family is in the fashion industry or you're very, very rich," he explains.
Contacts outside your factories are important, too. "I sort of begrudged it at the time, but I was always thrown into the showroom to present the collection to all the buyers and press," says Andrew of his years designing at Donna Karan. "But in retrospect it was amazing, because I got to build relationships with these key executives in the industry, and when I went to launch my own line all I had to do was pick up the telephone. My collection in my first season was at Barneys, Saks [Fifth Avenue], Bergdorf Goodman and Harrods."
Build your business
"There is a big step between presenting 10 to 15 models in a showroom… and making it a real collection and a real brand," says Hardy. "I wasn't prepared for that—I was just a stupid designer dreaming about shoes. You have to be efficient, you have to be competitive and you have to be communicative." Getting the right assistance is essential, and many designers look close to home. Osorio set up Aquazzura with his partner Ricardo D'Almeida Figueiredo, while Webster's husband Bobby runs the commercial side of her line. Another option is to seek external support. "We hired a management team from another luxury group that had a lot of luxury experience," says Osorio.
Spread the word
"You will get written about when you're new," says Webster, "but after that, you have to consistently be creative, and you've got to pace yourself." Osorio, whose line gained traction thanks to the concurrent rise of street style in 2011, recommends new brands "only focus on a digital strategy" when they first start looking to raise their profile. "When you don't have any money, you need to only focus using that voice and doing it well," he continues, citing his shoes appearing "in those [street style] pictures and on certain people" as making "a huge difference".
And finally…
"You can never dream big enough," says Osorio. "You just need to work your ass off, believe everything is possible, have a big smile on your face and be very nice to everybody."Read more at:cheap prom dresses uk | prom dresses
15 mars 2018
It has long been an accepted expedient for bridegrooms to hire their wedding regalia; more often than not the Best Man's duties include the return, next day, of two morning suits and two toppers. And now, it seems, a similar duty sometimes devolves on the chief bridesmaid on behalf of the bride.
Soon after the war, a London dress firm announced themselves as "Bridal Specialists." The idea was to act as fairy godmother to girls coming out of the forces who had so many clothes to buy as well as their wedding garments. But the young are incorrigibly conventional: "something borrowed" they must have for luck; but something hired, what next!
It was not until evening-dresses had been added to the repertoire and were being hired by well-dressed, moneyed women short of clothes coupons, that girls began to feel that to hire a wedding dress was not to do a shamingly undone thing.
Clothes coupons are old history now, but clothes are much more expensive than they were. This, combined with the capricious desire in nearly every feminine heart for a white wedding, has led to this one firm hiring out during what is probably known as the peak nuptial season, several hundred wedding dresses a week.
The dresses cost from 4½gn. to 20gn. to hire, including all accessories: headdress, veil, flowers, gloves, shoes. Bridesmaids' dresses are from 2½gn. to 6gn.; children's 2gn. There is no deposit. The dresses are cleaned after each wearing, and none is worn more than five times before being discarded. There is a postal service for provincial hirers; if the bride cannot come to London to make her choice and be personally fitted, she writes for a catalogue or sends her own sketch of the dress of her dreams. From this sketch, a dress is chosen for her by the "show-room visualisers." One imagines these visualisers as wearing confetti-tinted spectacles, and having a permanent pew at the back of St Margaret's, Westminster.
The choice of dresses is very large and a new collection is designed each season. There is, however, a perennial demand for something "traditional." Most people's idea of a wedding dress is a kind of hybrid period dress, in which the medieval and the ecclesiastical are hopelessly confused, the whole being topped off with a neo-Italianate head-dress – and, as like as not, a Victorian posy. Also, of course, they see a high modest neckline and long sleeves; for in these decolletés days, when a little exposure goes no way at all, a mildly low-cut or short-sleeved wedding dress is quite out of the question. Tradition is against it. Yet, how long is tradition?
The white wedding-dress itself was an innovation of the early nineteenth century not, as is generally believed, a symbol of virginity. It came in simply as a fashion trend following the manufacture of lace, which had brought about a vogue for wearing white in court circles. But right up to late Victorian times wedding dresses were often coloured, frequently grey or lavender; and up to Victoria's accession they were often low-necked, and short-sleeved. In fact, they followed the fashion of the day, instead of casting back, as they do in our times, to earlier periods. It was really not until daytime skirts became short and skimpy, in the 1920s that the wedding dress became a separate fashion feature, virtually fancy dress.
The hire of an evening dress, inclusive of gloves, evening bag, and shoes, is from 2½gn. to 10gn. They are cleaned after each hiring, discarded after five. Furs are from 1gn. to 7gn. This evening dress service is most useful for those who only hit the high spots once or twice a year but want to hit to kill; and also for those who hit them so often in the same places and with the same circle of friends that their wardrobes are unable to give a continuous variety performance. In addition, there is a brisk tourist trade with visitors to this country travelling light by air and not wishing to pack evening clothes. And again, British women going on cruises can make special arrangements for longer periods of hire, thus being able to take three or four dresses with them for the cost of buying one.
So there we are. Never again need we turn down the last minute invitation which finds us with not a stitch we would care to be seen dead in; and never again need we refuse that attractive proposal to get married next week and sail in luxury for a honeymoon in the Bermudas.Read more at:cheap prom dresses | graduation gowns
08 mars 2018
Nobody sent out an agenda, but this season's Paris shows effectively felt like a huge conference of voices speaking about how to represent women in the era of Time's Up. Threads of the same conversations kept coming up and intertwining—in what designers said in interviews, in the symbolism we read into their clothes, and in the running commentaries between colleagues in cars and cafés.
We all saw, felt, and engaged in the issues. For one: How can fashion act as a conduit for female power? We saw throwbacks to '80s skirtsuits and shoulders dissected and rethought in a time when female employment equality and political power urgently demand to be backed. We saw serial cases of classics—tweeds, camel coats, tartans—being morphed into modernity by brainiac imaginers. We witnessed cultural influences from Islam taking in head coverings and modest dressing.
We felt the inspiration of the past meeting our new day: 1968-er Paris revolutionaries and sci-fi knocking at the doors of fashion consciousness. Finally, at a moment when there are so many wildly complicated issues to process, there was love for the designers who backed up and calmed us down with beautifully simple clothes—and equally for the ones who took us off, up, and away into the realms of visual wonder.
Closing remarks, then? Hard to summarize, but this much is true: When smart designers work into the creative tensions of our times, great things can happen.
Marine Serre
"Marine Serre titled her terrific third collection Manic Soul Machine, a reflection, as she put it, on the roller-coaster ride of the first six months of leading her own label. It's apt. The hyper-speed at which the industry moves means designers like Serre have to deal with not only the voraciousness of the hunger for newness but being able to present to the world a cohesive and consistent image from the get-go as well. It's yet harder still if you're someone like Serre, who is not only a significant talent but also self-aware and reflective about how fashion can find its place in today's world and what it should actually stand for. Consideration of the political, the societal, the cultural, the sexual—they're as much part of who she is as they are part of making great clothes. Which she does, and then some."
Christian Dior
"Maria Grazia Chiuri understands her own time. Dovetailing as it has with the Trump era, her Dior tenure has coincided with a great feminist uprising. She's held up a mirror to feminism's fourth wave, quoting the Nigerian novelist Chimamanda Ngozi Adichie one season and the art theorist Linda Nochlin in another. This season, Chiuri saved almost all the slogans for her set, which elaborately reproduced magazine covers and protest art of the late 1960s. And she took up the clothes of that era—the crochets, the embroideries, the patchworks—and filtered them through Dior's luxury lens. The charm of the collection was in its rich craftiness."
Paco Rabanne
"Lucky were the girls in the Paco Rabanne show. With their effortlessly undone hair and fresh makeup, they shone in an outstanding Julien Dossena show—the sort that made women watching not only think, That's amazing, but also, I think I can take something from this! The ingredients: Paco Rabanne's chain mail heritage, convincingly meshed in with perfect French classics. 'I wanted to get back that super-cultivated, super-Parisian thing,' said Dossena in a preview at the Paco Rabanne studio. The genius was all in Dossena's layering methods. Instead of leaving all the chain mail as theoretical '60s space-age showstoppers, he put his through a '90s filter—those days of grunge and minimalism when the answer to making anything dressed-up work was to layer it over a T-shirt, put it with a white shirt, and stick on a pair of flip-flops. These flip-flops came smothered in the plastic paillettes, mind."
Loewe
"There will be coat wars ahead. So many collections, so much outerwear this season! At Loewe, Jonathan Anderson made a very strong pitch for owning the top of the field, with a score of no less than 15 coats on his runway—something to cover every possible use, from a walk in the country, to commuting, to school runs, attending private views, events, dinners, and the like. Why stop at a duffle coat, a tufty shearling, a black-and-white chevron-patterned fit-and-flare midi? There is evening, too: a quite elegantly beautiful black trapeze with puffy leather cuffs. Even to those of us who've barely been to an opera, the idea of arriving somewhere in that evening coat was aspirational."
Comme des Garçons
"Rei Kawakubo put on a hugely enjoyable display of over-the-top fabulosity today—a show created from frills and fantasy, and crinolines, and lace, and flowers—her vision of super-girly Vaudevillian charm, taken to delightful heights of excess. Kawakubo had been reading 'Notes on Camp,' Susan Sontag's 1964 essay. This was one of those Comme des Garçons collections that is an uplifting shot in the arm for fashion in general; an argument for creativity and the joy of dressing up. It ended in a moment of sweetness that will be a memory of the season—Kawakubo's girls, lining up hand in hand, smiling at the audience as they left the stage. As Sontag wrote in that essay, 'Camp taste is, above all, a mode of enjoyment, not judgment. Camp is generous, it wants to enjoy. . . . Camp is a tender feeling.' "
Balenciaga
"It was the first time women and men walked together in a unified show, and for Demna Gvasalia, it represented a conceptual and personal leap forward. Instead of merely imitating the heritage looks of Cristóbal Balenciaga, he'd dedicated R&D time to working on a high-tech computer-enabled process for molding tailoring for women and men alike. Bodies had been 3-D scanned, the 'fittings' were done in a computer file, and then molds were printed out. Progressive ideas are much needed in fashion today, on all kinds of levels. Demna Gvasalia's mission to recode Balenciaga tailoring in the cyber age might not be a future solution—it still involves the use of synthetics, and you could argue that it negates the skills of the human hand. Nevertheless, the thinking behind this collection marks Gvasalia as a designer who wants to be an agent of change in the fashion industry, and who goes for social change, too. 'I don't want to be just a T-shirt-and-hoodie man. We sell them, of course—but I feel I have a responsibility to do it in a way which brings a message.' Ethics x aesthetics. Sounds like a timely way forward."
Alexander McQueen
"Among the catwalks and the commentariat, what we've been talking about is how to represent women. Femaleness is a spectrum, not a grab bag for definitive pronouncements about power or romanticism. Sarah Burton's is a subtle woman's voice speaking through these complexities. Shoot from one end of her collection—an impeccable female tuxedo—to the gowns at the finish, and you will see someone working through our climate of change. Her empathy and stunning couture-level skills went into a collection she described as being about 'extreme nature. Metamorphosis. A soft armor for women.' "
Sacai
"In this season, when so many designers have been fusing, hybridizing, and patchworking garments together, let's take a moment to applaud the woman who started it all. Chitose Abe's skill—apart from the ability to make one outfit out of parts of many garments—is knowing the right archetypes to call on at any given time. This ​Fall, as classics have become a subject du jour, she was yet again on point, polishing up her assemblages with menswear tweeds, trad rainwear, school​-​blazer stripes, banker-stripe shirting, navy blazers, and generic down jackets. The general effect was half-and-half, this time arranged on a vertical axis rather than back-to-front (a point humorously underscored by the unmatched footwear)​.​ This was a​ strong, graphic collection that will surely fly."
Louis Vuitton
"Space has been a recurring motif throughout Nicolas Ghesquière's career; it's animated some of his most imaginative, exciting work—remember the articulated C-3PO leggings? Here, he was operating in a much more grounded manner, though of course, this being Vuitton, the results were far from pedestrian. Metal chains and doodads elaborately trimmed cropped jackets; dense beadwork decorated the oddly asymmetrically draped halter tops for evening. Ghesquière must've liked the off-ness of that gesture. The models wore only one glove on their bag hand. Flat envelope bags and large totes printed with what looked like computer motherboard circuitry were the new developments on that front."Read more at:prom dresses 2017 | marieprom